It finally snowed, really snowed, here in Northeast PA!
Since I'm a teacher, it means a snow day for me too.  My littlest is actually sick so it works out perfectly that I am home to tend to him today (although nothing seems to make him feel better quite like watching all the YouTube Minecraft videos he loves — any of you relate?)
I've been working on loads of laundry and sorting through piles of paperwork.  Nothing feels quite so good as an empty inbox.  I'm ready for the next onslaught.  Bring it on, book bags! This lady is ready to purge.
While I was writing this post, I realized I don't think I have ever  posted a picture of my desk so here it is…
This is where the magic occurs — my desk which is actually in the corner of my kitchen. It's not really just my desk.  It's the "family desk" aka homework central aka "the place to dump anything some people who live here are too lazy to put away."  I fall into this category sometimes too. When the piles get too big and my mind is overwhelmed, then it's time to clear house. Hence, today's purge. Wish I had taken a "before" shot.
Here's some perspective of where my desk is located.
To the right is a sliding door to our back porch and through the open door way to the left is our dining room which then opens to our family room.
I like having this little corner, but if we remodel our kitchen in the future, I would love for this whole area to be a pantry with a sliding barn door.
Maybe something like this…
Oh well…a girl can dream on a snow day, right?
In other news, this came in the mail today.
My latest Birchbox.  If you love trying new beauty products but hate committing to full size products, Birchbox is for you.  It's a monthly beauty service that includes 5 samples tailored to your preferences– plus it's super fun and brightens my day when it arrives in the mail. My daughter bought it for me for my birthday and I love it!
Birchbox costs $10 per month or $110 for the whole year.  The yearly subscription is currently on sale for $99.  If your Valentine needs a nudge in the right direction (or if you are your own Valentine) this gift lasts a lot longer than flowers plus brings beauty treats all year long.
JCrew Factory has a great sale today: 30% online orders.  I bought this dress recently and I love it!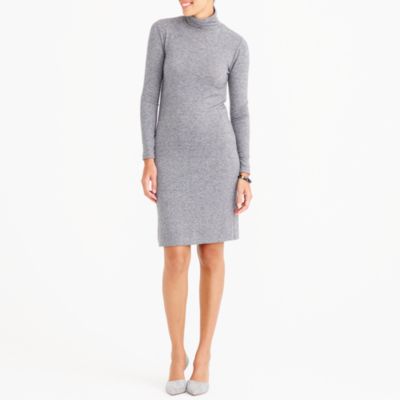 With the online discount, it's under $40!  It looks more form fitting in this picture than it is in real life.  Trust me.  This dress is more drape-y than body con, making it perfect for work.  I think it will transition perfectly to spring too.  I recently wore it to school with black tights and shoe boots, but I think it will look just as cute with flats or fun sneakers in the springtime.
See what I mean? Not too tight at all.  Lots of room to move and it's seriously so soft.  My daughter took this picture for me at the end of the day and I felt super corny doing it but I really wanted to show it in real life, halls and all!
It also comes in heather burgundy (which I bought too — eek!).  The necklace I'm wearing is from JCrew Factory too and it's also on sale.
I bought it in the store and got a better deal ($23!) than its current sale price of $32.90 so maybe this one is one to watch if that's too steep for you (it would be for me!)
I am working on a big post about our new foyer floor but here's a sneak peek…
The grey tile is from Lowe's.  So far, it's been a hard worker and dirt hider which is a necessity for us.  Our foyer sees a lot of action.  Today it's covered in snow boots and snow gear…
my middle and friends just returned from sledding Round #3 and there's cocoa to make and snow clothes to dry.
I hope you are enjoying your day too!
love, Angie