I'm not one for making New Year's resolutions because usually by now, two weeks into the new year, I'm already feeling guilty that I'm not adhering to those midnight promises.
So rather than focusing on what I plan to do differently this year (and believe me, there's plenty I need to work on), I'd rather focus on simply what's new…new with me…new with my house…Sound good???
First up…me!
My Instant pot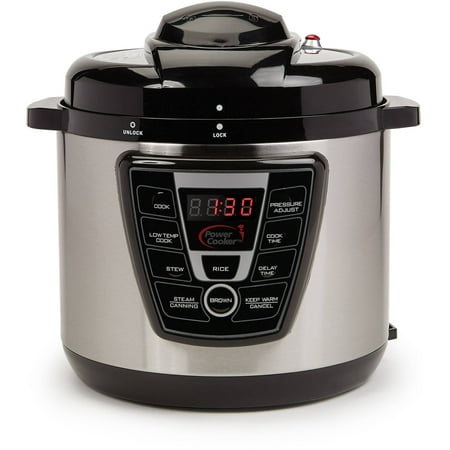 My grandma bought me this Instant pot for Christmas and I'm mad that I didn't jump on the bandwagon sooner; now that I own one, I see why Instant pot users everywhere tout its speed and ease of use.  I was a little intimidated when first reading its directions, but the learning curve was quick to master and I've been using it at least once a week ever since.  I love it for quickly cooking frozen chicken breasts on those days that I forget to defrost them.  If this happens to you (like it does me on a regular basis) than an Instant Pot will save you from those last minute take out orders because you can have frozen to shreddable chicken breasts in 20 minutes flat.  My Instant Pot is also a crock pot, rice pot, and so many other things in one so that will help if storage is an issue.  If you have an Instant Pot, please share your fav recipes.  I need more!
Online grocery shopping
Our local Wal Mart added online grocery shopping with curbside pick up in the fall and I've been using it ever since.  It's free with a min. $30 order, the website is super user friendly, and the time I have saved from avoiding the grocery store is priceless.  Most items on my list I order each week so it's easy to add those to my cart.  I must be saving mucho dinero too since I'm a compulsive shopper — who else is a sucker for those store displays??  When I'm shopping online, I'm less apt to buy things we really don't need.  I must admit that I would rather shop at our local Weis but they don't have online shopping…maybe someday??
Spotify Year in Review playlist/The Greatest Showman soundtrack
In college, my roommates would tease me that I was a "one hit wonder," often listening to the same song, over and over, ad nauseum, so it's no surprise that Spotify's Year in Review playlist is my favorite thing to listen to right now.  It's a compilation of all of my most played songs of the year and it makes me so happy.  I also am listening to the soundtrack from The Greatest Showman on repeat too; it's good stuff.
Modern Mrs. Darcy weekly Kindle deals
If you have read my blog posts before, you know that I love to read.  Many of the books that I select are based on the recommendations from Anne of modernmrsdarcy.com.  I especially love the weekly kindle deals she shares.  If you need a good book to cuddle up with but don't love Kindle prices, sign up to receive her emails too.
Next…our house
If you follow me on Instagram you would know that our kitchen renovation has begun. (Insert me doing jazz hands and dancing here)
It's actually the last phase of a 13 year plan.  When we purchased our home 13 years ago, the kitchen was one of the rooms we loved most because of its size — it's big, 18x24ft.    However, the layout and some of the finishes didn't work for us, so over time, slowly, slowly, sloooooowly! (too slowly for me sometimes) we made changes that worked for us and that we could afford.
But now, finally!,  it is time to make it complete.  That means we will be
Getting all new cabinets and countertops
Buying new appliances
Removing existing light fixtures and adding new ones including recessed lighting
Building an oven hood and adding open shelves on either side
What we aren't doing is replacing the floor.  We added a hardwood floor (replacing tile which replaced the carpet that was in place when we bought the house) a few years ago and we love it.  We went with pine floors to match the existing floors on the rest of our first floor and I love them more and more as they age — scratches and all.
We also won't be dramatically altering our existing layout.  That's a perk of the 13 year renovation.  Over time, we have discovered what works (and what doesn't) for our family and all of those mini-renos have helped us figure out the configuration that works best for us.
Here's some unedited "Waaaaaay Before" photos from back when we first bought our home.  Everyone loves a good before/after, right?
This slideshow requires JavaScript.
I am documenting the process daily on Instagram so follow me @ angiepburke for daily doses of all things kitchen or check back here once a week or so for a weekly progress report.  Thanks for following along!