A big thank you to those of you who came to my yard sale last week! I had so much fun finding new home for my junk treasures.  Also, thanks so much for tolerating my FB/Insta overload last week promoting my yard sale but it worked — my garage is officially empty and The Boss is happy.  My plan is to be more purposeful with my purchases (even those from flea markets and yard sales) in the future so hopefully I won't be swimming in my stuff again. My house feels like it can breathe again and I love it!
Now for my more thorough bathroom update…
My 3 kiddos share a bathroom that I first wrote about here and more recently here. We retiled the shower and the floor, changed the vanity, toilet, and medicine cabinet, and updated the light fixtures about 6 years ago so the bathroom was in great condition but needed an update to fit the needs of our family.  Specifically, we needed this bathroom to work harder to accommodate a teenage girl and her 2 younger brothers.
Here's the before…
Our needs were pretty simple:
1. New (and different) towels to discourage sharing.
2. Toothbrush holders to keep toothbrushes separate and off of the bathroom sink counter.
3. Storage! storage! storage! (girls need a lot of space, right?)
Here's what we did…
We first painted the whole bathroom Decorators White by Benjamin Moore which instantly made the bathroom feel brand-new. Then, I ordered the whale shower curtain from West Elm which is currently unavailable (boo!).  I found the perfect canvas at Home Goods to fill that massive space above the towels and it was on clearance! Winner!
I found the rug in front of the vanity at Target.  I can't find the link online but have recently seen it still in stores. All towels are also from Target. The striped ones are Nate Berkus — again, on clearance.
The hand towels were monogrammed by a local seamstress and I love them! We added 2 more hooks to accommodate more towels. (We already had lots of hooks for bath towels which was a plus.) The toothbrush holder is from the desk accessory aisle at Home Goods and the letter cards for I, J, and S are vintage, from Brimfield Antique Flea Market (I just went — click here to read all about it).
The wood shelves above the toilet are also from Target and happened to fit the space I needed perfectly. Click here to see available sizes. The Red Cross metal box is vintage, from Brimfield, and the plant is faux (shh!!!! Don't tell anyone).  It's from Ikea, purchased a few years ago.
The whale poster is from Brimfield and I made the simple hanger (with some help from The Boss).  The poster's width is about 19 inches so I had The Boss cut a scrap piece of wood into 2 22″ pieces, one for the top and one for the bottom.  Since the poster was only $8, I decided to simply staple it to the wood strips from the back using a staple gun.  Next I added an old piece of leather to the top to act as the hanger, again using the staple gun.
Finally, I simply hung it all with a nail.  I've seen several tutorials on other websites that are surely better than mine, but really it can't be any easier to make your own hanger.  I guess the hardest part would be finding scraps of wood the size you need but I know that lumberyards (Big Box and local) would surely cut to size for you.  I also lucked out because my pieces of wood were the right color but that could easily be remedied with a quick swipe of stain.
I also taped to the wall using washi tape a sweet card (from Brimfield) with a quote from Moby Dick.
Finally, the last change we made was really simple but made a big impact for me. Sometimes it's the small things, right? The knob to our closet always kind of irked me.  It looked too small for the door so while at Ikea looking for desks for my daughter, I found these great door pulls.  Presto chango — it instantly makes the door look better! We used the hole that was already there for the top and drilled another hole for the bottom.
And with that, we are done.  Pretty much.  I would like to add something above the toothbrush organizer.  Not sure what but maybe I'll find something at a yard sale?  I'm not in a hurry so I'll just wait to see what speaks to me.  I may just add a picture of my 3 kiddos.  Maybe a black and white? Now that I'm thinking about it, I may have just the right frame…
love, Angie
P.S. After I wrote this post, I found the perfect thing to put above the toothbrush holder.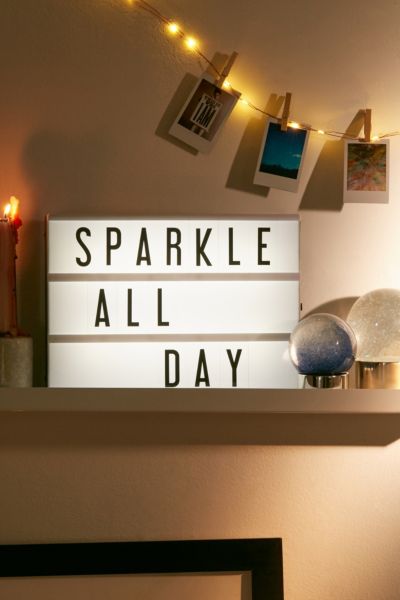 This light box from Urban Outfitters.
This is what it looks like in our space…
Believe me, my boys NEED this reminder — I love it! It's a super fun addition to our bathroom and I think kids' spaces especially should have elements of the unexpected.  I imagine changing out the message on big days like birthdays, holidays, adding jokes, etc. Plus, it doubles as a nightlight.  The downside is that it operates on 6 AA batteries and I'm not sure how long they will last.  I've only been turning it on at nighttime. The light box did come with a USB cord but it's not convenient for me to plug it in easily — may be that would work for you though? Anyway, I love it, the kiddos love it, and let's hope they all have cleaner teeth!