Our attic, the "3rd floor," is getting a re-do and it's exciting — for so many reasons!
I actually wrote about the bathroom that's up there here and explained why that reno had to be revised.  I am actually very happy with the modificiations we did make even though it isn't my original dream bathroom. We saved tons of money (because we didn't do a total gut-job) and we kept the old tiles which are new again.
Hello cement tiles! We had you before you were cool! (These are circa 1980 something.)
I'll share more pictures of the bathroom very soon…
Now back to the main room…
It's big.  720 sq. ft. of fun zone for the kids.  We have used this space since we moved in 13 years ago as a play space.  We painted it right away using light gray, red, and blue, hung up license plates, vintage signs, board games and sporting equipment and let our kiddos take over.  And it was great.  For 13 years.  But now, our families' needs have changed just a bit.
We still need a fun zone.
We still need lots of space for sleepovers. And Nerf gun wars. And spa treatments.
But, we need to add a bed because we are getting an exchange student from Italy this school year and he needs a bed and a dresser for clothes and some space away from the madness!
We are all beyond excited about welcoming a new person to our family so these changes are extra exciting!!
So it was time to do some updates to our fun zone. Here's the areas of concern:
I liked our wall colors but the red especially made the room feel a little dark.
Too. much. stuff.  On the walls.  Everywhere.  I'm keeping the license plates but will use them in a different way.  I am craving less right now.  Not less fun, I promise! But just less stuff!
The carpet is literally falling apart.  The carpet must be over 40 years old and it's faded and sagging and needs Botox.  Or, to be ripped out.
80's track lighting isn't cutting it anymore.  The ceilings are super high (and super cool) but these lights aren't illuminating the space properly.
The plan?
Paint all the walls (and the ceiling) white.  Benjamin Moore Decorator's White.  Satin for the walls.  Semi-gloss for the trim.
Replace rug.  Laminate? Vinyl? Something durable and kid-proof.
New track lights.
New closet door to replace one that was not functioning.
Buy a bed and a bed frame that can fit the narrow staircase leading to the third floor.
Still keep the fun in the "fun zone." Separate the sleep space from the play space.
Here's where we are so far —
We painted the walls white.
Replaced the old track lights with energy efficient, LED lights.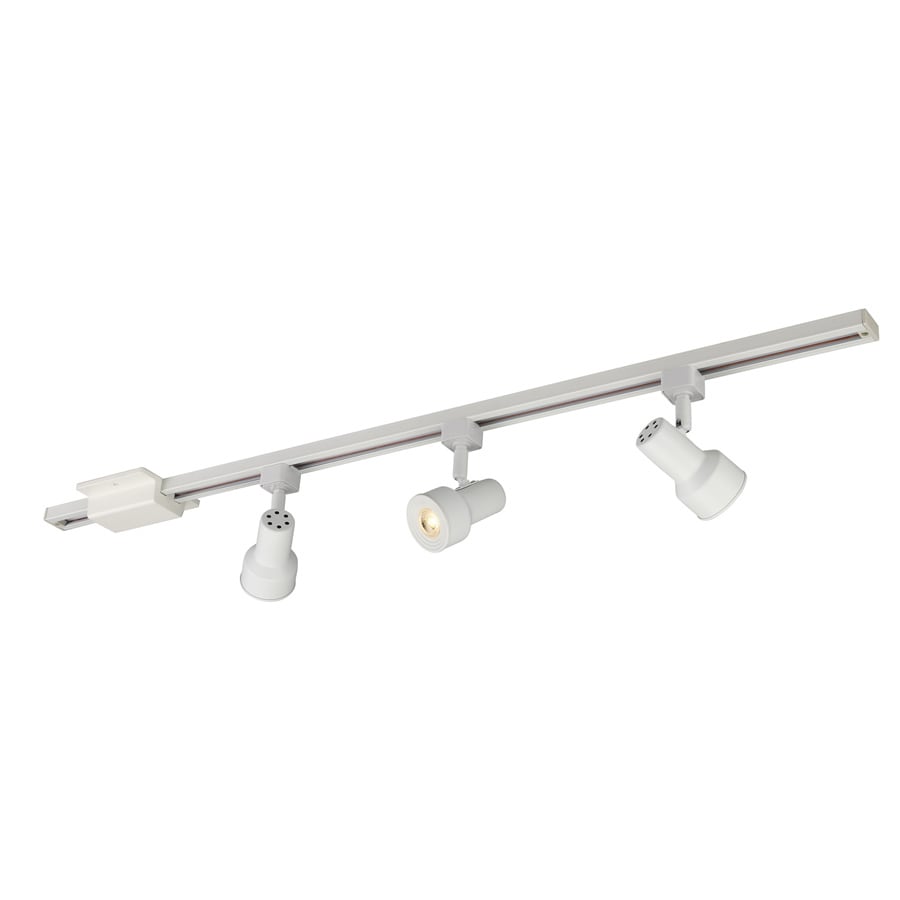 I used these track lights in the adjacent bathroom and love them for several reasons:
The light is bright and clean.
The light bulb thingys never need to be replaced which is perfect for extra tall ceilings.
They blend(ish) with white ceilings.
They're affordable.
I bought them here.
New closet bi-fold doors with black pulls.
I bought these from Lowes but upgraded on the pulls and it has made ALL the difference. The pulls are 10 inches and really help elevate these pretty basic closet doors into something more special.  I ordered them from Amazon here.
This flooring ordered and is almost done being installed.
It's the Pergo MAX laminate in Nashville Oak from Lowes.  I wanted something super durable because hello? Kids..especially BOYS! and this floor is just that — it already looks beat up so it's perfect for us.
I plan on reusing most of the existing furniture and shopping the house for the rest.
I did buy a chair for $35 which I totally love from Facebook Marketplace!
Have you used Marketplace before? It's like Craigslist for Facebook.  This was my first time and it was super easy.  I have a few vintage signs that I might try to sell this way.
I like the chair so much though that it may end up in my bedroom instead — oh well!!
And here's a funny picture to end with …
If you follow me on Instagram you may have seen this image over the weekend.  In order to eliminate 10,000 trips up and down the stairs, I suggested that the floor installers chuck the old carpet and carpet pad out the window which they did — wish I had a video!
If you were driving by, I hope it didn't startle you!
love, Angie